The Mars Rover Challenge
The Flourish School in partnership with Qweebi is offering the Mars Rover Challenge for children between the ages of 8-14.
This in-person program is open for everyone – even children who are not enrolled with the Flourish School.
When
Mon, 26 Dec to Fri, 30 Dec 2022
Timing
10 AM to 1 PM (all days)
Where
The Flourish School Campus, Magarpatta City, Pune
Fees
Rs. 2,500/-
Includes a 3-month licence to the Qweebi program and a certificate of participation.
Requirements
– A laptop running Windows or Mac
– An external mouse with a scroll wheel (recommended)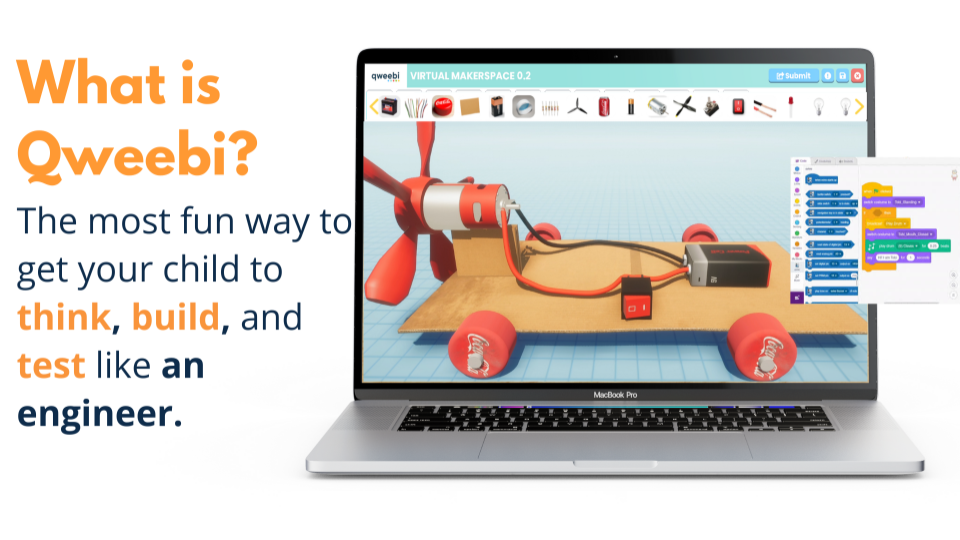 What is the Mars Rover Challenge?
5 sessions of rich hands-on STEM experiences.
Students are put in the shoes of engineers to design and build their own Mars Rover from scratch.
They spend the first 3 sessions picking up STEM concepts through first-hand investigations.
They learn how to fail often and quickly to discover what works and what does not work.
Using the Qweebi simulation software, which simulates real-world physics, they learn how to prototype quickly and course-correct.
The children will attempt to build their own working prototypes for the grand finale.
Apart from the challenge, the students will get complimentary access to the Qweebi software for 3 months which they can use to prototype objects virtually before building them in the real world.
What will my child learn?
Science and Engineering Concepts
Your child will understand STEM concepts – forces, renewable energy, automotive design through their own experiments.
Solving problems by applying critical thinking and creativity.
Your child will learn to solve problems that have no set solutions. E.g. build a working car from household junk.
Persistence
Your child will learn that it's okay and even good to fail multiple times before finally succeeding.
Confidence
Your child will find the confidence to express their ideas to their teammates.
A Growth Mindset
Your child will realise that succeeding at something is just a matter of persisting with the problem and trying new solutions.
Frequently Asked Questions
Q1. Will we build an actual, physical Mars Rover?
No. The participants will build the Mars Rover using the Qweebi Simulation software, which allows them to try different combinations quickly and has unlimited supplies.
i.e. This will be a virtual program.
Q2. Is this an in-person program or an online one?
We are currently offering this in person at the moment. If it goes well, we may offer it online later. (TBD).
Q3. What does my child need to participate in this program?
A Windows or a Mac laptop with an external mouse with a scroll wheel. They should know how to use a computer.
Q4. How is the session structured?
Each day will have 2 sessions of 75m each with a break of 15m in the middle. Each session will either have a learning STEM module or a mini challenge which builds on top of each other.
The participants will be divided into teams of 2-3 participants.
However, they will each have copies of the Qweebi Simulation software and work together to prototype ideas.
Q5. How many participants are you enrolling for this program?
We will halt registrations at 12 participants. We will have 2 facilitators – so a participant:facilitator ratio of 1:6
Q6. What is the age limit?
This would be most effective for participants between the ages of 8 and 14.
Q7. Can we attend only on certain days?
No. As we build on the previous day's concepts in the next days, this would not be the most effective thing to do.
Q8. What else do we need to send with our child?
A bottle of water and a small snack is recommended. We do have drinking water on the premises.