Learning for mastery.
Not exams.
Flourish is a cutting-edge, learner-driven school for ages 5 – 9 located in central Pune.
In partnership with the Acton Academy in Austin, Texas.
About Us
We (parents of two lovely children – ages six and one) have started Flourish in June 2021. Flourish is an open, alternative, learner-driven, mixed-age school in Pune in partnership with the Acton Academy, Austin. We intend to provide a learner-driven, personalised learning experience for our children and those of other families who are looking for an educational experience fit for the 21st century.
The school will initially start for children in grades 1-4 and grow with them until grade 12. We are accredited with The International Association of Learner Driven Schools (IALDS) and our students can take exams under the National Institute of Open Schooling (NIOS), Cambridge or Maharashtra State Board of Open Schooling.
The school is being started in partnership with the Acton Academy in Austin, Texas which has been running a similar school in the United States since 2008, with astounding results.
How is
Flourish diffe

rent?
We believe that each child that enters The Flourish School will find a calling that changes the world.
These young people will become independent learners that find great joy in learning within a tight knit community that upholds the highest standards of excellence.
   21st Century Learning
We employ the latest in educational technology for self-paced mastery of reading, writing and math skills.

We have deep Socratic discussions about heroes, history, ethics and self-governance to hone critical thinking skills and the ability to powerfully think, write and speak.

We have hands-on project based Quests to master the tools and skills necessary to solve problems in the real world.
   A Learner Driven Community
Students create and sign a Contract of Promises describing how each individual will act and the consequences for violating community norms.

Mentor teams encourage younger and older students to listen, affirm, set goals and hold each other accountable.

"Learn to Be" badges that celebrate character and completing leadership challenges.
Measuring

Mastery

. Not test scores.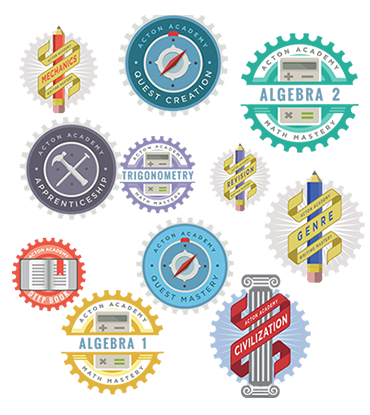 Earn badges to prove mastery of new skills
Our young learners celebrate the mastery of tools, skills and character by earning badges, assembling portfolios and taking part in public exhibitions.
Parents use badges to track academic progress in Core Skills like reading, writing, math and spelling.

"Learn to Be" badges track character development across studios.

Electronic and hard copy Portfolios capture rough drafts, photos, video and other creative work.

Public exhibitions at the end of most Quests allow young heroes to present work to experts, customers or the public for a real world test.
Disruptive Education
An award winning independent documentary on the Acton Academy.